San Francisco Fashion Week 2012 + San Francisco Fashion Awards 2012 = UNITES STATES OF FASHION
[ L-R: Mira Torres, Alison Messinger, Molly Covert & Amy Gilmer ]
[ L-R: Mira Torres, Alison Messinger, Brad Carrick (Moderator) Molly Covert & Amy Gilmer ]
"SAN FRANCISCO FASHION WEEK (tm) 2011" - FASHION BLOGGERS CONNECT & Trunk Show
WHEN: 08/10/2011 Weds, 6-9:30pm
WHERE: EFactor's HQ Office 870 Market St. Suite 828, San Francisco, California 94108

SPEAKERS:

Alison Messinger @ http://www.eclecticalamode​.com/
Amy Gilmer @ http://about.me/AmyGilmer
Mira Torres-Montalvo @ http://www.thebeautybohemi​an.com/
Molly Covert @ http://www.rabbitfootferndesign.com/
Brad Carrick @ Solz Shoes
Retail Vendors:

Cherie Sheery @ http://cheriesherrie.com/
White Petals @ http://www.mywhitepetals.c​om/
WorkPlayDate @ http://www.workplaydate.co​m/ 
Luv.it @ http://blog.omgiluv.it/

FASHION BLOGGERS CONNECT. Where fashion bloggers are given various platforms to promote themselves, network and share new tech and innovative ideas in continuing to revolutionize fashion in San Francisco. Fashion bloggers will discuss how blogging and social media have reshaped the fashion industry and the function of blogging in community building, social activism and dynamic journalism.
SPEAKERS:
1) AMY GILMER - Amy Gilmer is a Social Media Manager & Blogger for the country's largest wine brand at BBDO San Francisco, writes her own fashion blog and dabbles in freelance writing an online retail blog as well. Amy's areas of expertise at BBDO include Facebook, Twitter, Blogging, Mobile Applications, Social Media Strategy and Emerging Technologies. Prior to BBDO, Amy worked on Apple's iPad advertising and devoted a significant amount of time to application research and optimization in the iPad's first months, with a special interest in fashion apps for the iPad. While Amy's day job keeps her busy in the wine industry, her true passion is apparel. She follows the social shopping trend very closely and has her finger on the pulse when it comes to sites like Pinterest, Polyvore, Couturious and Chictopia. Visit: http://about.me/AmyGilmer
2) ALISON MESSINGER - "Alison's background pulls from her studies in the fine arts, her time dwelling in Paris, work in gallery operations and interior design, and an MFA in fashion from The Academy of Art University in San Francisco. Combining these interests came in the form of her blog Eclectic à la Mode, which she calls a 'haven to bring these elements together… as a sourcebook in the style of tasteful variety for the visually, philosophically, and auditorily inspired.' EÀLM is a haven for the collective interpretation of taste in style and culture as seen through the eyes of a fashion-obsessed, semi-ocd San Franciscan. Administered in heavy doses, EÀLM offers personal style pics, moody scenery, a moodier playlist, and seat-gripping biographical accounts of adventures in a life of art and fashion. Follow her blog at www.eclecticalamode.com, on Facebook and on Twitter."
3) MIRA TORRES-MONTALVO is a freelance beauty, fashion, and eco-living writer whose links and articles have been featured on various online publications including San Francisco's 7×7 and Blackbook magazine. She studied Fashion Merchandising at the Academy of Art University and holds a degree in Psychology from Ashford University. When she's not indulging in her fashion and beauty product obsession, she likes to paint, horribly sing to music in the car, read trashy fiction, and force feed homemade "gourmet" food to her husband & son. Visit her at 'The Beauty Bohemian' @ http://www.thebeautybohemian.com/ and you can e-mail her at torresmira@yahoo.com or follow her on twitter @miratorres.
TOPIC: FASHION BLOGGER 101 
DISCUSSIONS:
 Describe your blog. What is your inspiration?
How do you publicize your blog? How do you promote yourself as a blogger online?
How do you connect with other fashion bloggers? Why do you connect with other bloggers?
How do you come up with original content or generate fashion ideas to blog about?
What do you consider a good visual to publish on your blog? How do you take great photos to publish? Why good quality of images is very essential as part of your presentation?
What SEO tools do you utilize? Do you use any SEO plug-ins?
Why design is important? Explain what your blog design says about your image.
Share your experience with Twitter and Facebook pages. Explain.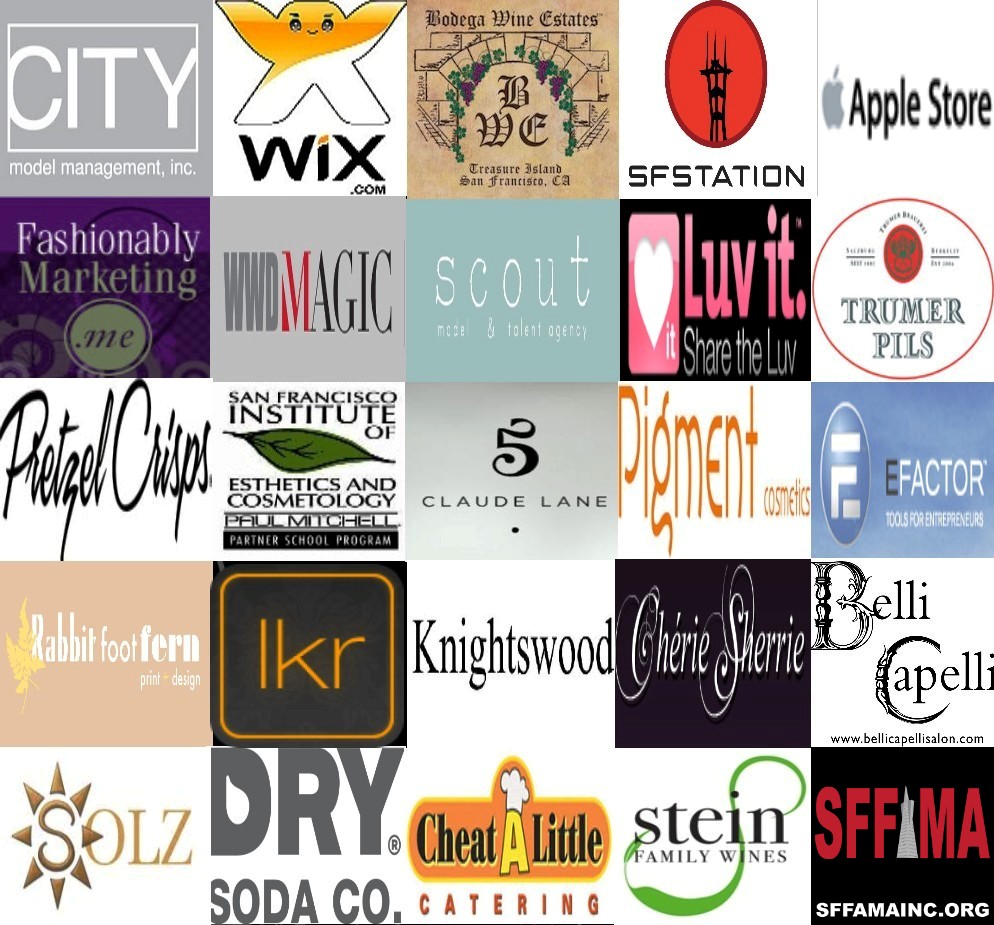 SPONSORED BY:
5 Claude Lane Gallery, Apple San Francisco, Belli Capelli Salon, Bodega Wine Estates, City Model Management, Dry Soda, EFactor, FashionablyMarketing.me, Knightswood Wine, Luv.it, Pigment Cosmetics, Pretzel Crisps, Scout Talent & Model Agency, Stein Family Wines, Rabbit Foot Fern, SFIEC, SFStation, Trumer Pils, Wix.com, WWD MAGIC